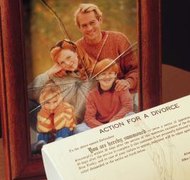 We live in a highly mobile society. For that reason, states are generally required to recognize and enforce judgments issued by the courts of other states. However, a handful of states have passed laws disregarding divorce decrees obtained out of state if evidence suggests the divorcing couple established residency in that state for the primary purpose of speeding up the divorce process.
Overview
The Uniform Divorce Recognition Act, or UDRA, governs the circumstances in which a divorce granted in one state will not be recognized by a state that has adopted the act. To date, the act has been adopted by only seven states. These states are California, Nebraska, New Hampshire, North Dakota, Rhode Island, South Carolina and Wisconsin. The act does not apply, and is not given legitimacy, in any other state. Under the provisions of the act, the UDRA state may refuse to recognize a divorce obtained in another state if both spouses are found to have been domiciled in the UDRA state at the time of the divorce.
Domicile
In order for the act to apply, both spouses must have been domiciled in the UDRA state at the time the divorce was obtained out of state. Under the act, domicile means the person either maintained a residence in the UDRA state throughout the divorce or resided in the UDRA state for the previous 12 months leading up to the divorce and then resumed residing in the UDRA state within 18 months after obtaining the divorce.
Rationale
The purpose of the act is to prevent "quickie divorces" as a result of forum shopping. Essentially, this occurs when a couple seeks to establish residency in a state for the sole purpose of obtaining a faster divorce than offered in the state of their legitimate residence. Generally speaking, states are required to honor the orders issued by courts in other jurisdictions. The act attempts to carve out a national exception to this rule, under the rationale that only the state where the parties actually live may legally dissolve the marriage.
Effect
If the UDRA state determines that both spouses were domiciled within its borders when the divorce was obtained out of state, the foreign divorce has no effect in the UDRA state. This means the couple will still need to pursue a divorce in the UDRA state. The same reasoning applies to orders dealing with the distribution of marital property, particularly real estate located within the enacting state's borders.