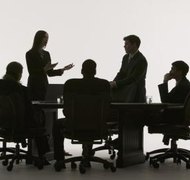 The Utah Revised Nonprofit Corporation Act outlines the process for creating, operating and dissolving a nonprofit corporation in Utah. A nonprofit created under Utah law may qualify for tax-exempt status under Internal Revenue Service rules and regulations. Incorporating as a nonprofit corporation in Utah can also provide numerous benefits under state law. Common types of business activities performed as nonprofits in Utah include local charities, charter schools and low-income housing corporations.
Procedures
The Utah Revised Nonprofit Corporation Act defines the procedures you must follow in order to incorporate, operate or dissolve a nonprofit corporation in Utah. For instance, the act provides that the procedure to incorporate a nonprofit corporation is accomplished by filing Articles of Incorporation with the Utah Division of Corporations & Commercial Code. The act also requires nonprofit corporations to hold annual meetings and to file annual reports with the Division of Corporations & Commercial Code.
Liability Protections
One of the great benefits that the act confers upon the owners and operators of a nonprofit corporation is a strict limitation of personal legal liability. Without incorporating, if an association engages in an activity that produces legal liability, such as breaking a contract or holding a public event where someone is injured, then the individual members of the association will be personally responsible for that legal liability. That means each member risks losing everything he owns. However, if those individual members instead operate under an incorporated nonprofit, then the members are free from personal liability. The corporation shields them from potential financial ruin.
Nonprofit Powers
The Revised Nonprofit Corporation Act outlines the powers that a nonprofit corporation may exercise. For instance, the act says a nonprofit corporation can exist perpetually and, during its existence, it can engage in any legal activity. Nonprofit corporations have legal authority to do things like buy, sell and lease property, file lawsuits, lend money or buy stock or membership interests in other business entities such as corporations or limited liability companies.
Board of Directors
The bulk of the Utah Nonprofit Corporation Act deals with the board of directors and the general officers of the corporation. The act, for example, outlines the procedure for appointing, electing, designating or removing the directors or officers. It also sets out the requirements for regular and special meetings of the board of directors. Even directors' compensation falls within the act's provisions.