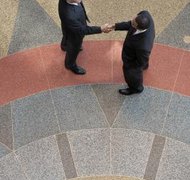 Virginia defines a partnership as an association of two or more people with an intent to carry on a business for profit as co-owners. Partners are permitted to withdraw from a partnership under Virginia law for any reason, at any time. The terms of the partnership agreement may specify that the partnership will dissolve automatically upon the withdrawal of one partner.
Step 1
Review the terms of your partnership agreement to determine whether there are any special notices or time frames that must be adhered to when giving notice of your decision to withdraw form the partnership.
Step 2
Download Virginia SCC Form UPA-115, Statement of Dissociation from a Partnership, from the Virginia's State Corporation Commission website.
Step 3
Fill out Form UPA-115. You will fill out basic information such as the partnership's name and ID number and the jurisdiction under which the partnership was formed. Sign and date the Form UPA-115.
Step 4
Submit the Form UPA-115 with the State Corporation Commission at P.O. Box 1197, Richmond, Virginia 23218-1197. Include a check or money order for the filing fee, payable to the State Corporation Commission.
Step 5
Send a copy of your Statement of Dissociation from a Partnership to every other partner.
Tips & Warnings
If you have any specific questions about filing the Form UPA-115, you can contact the State Corporation Commission directly at 804-371-9733.

You should try to negotiate an indemnification agreement with the remaining partners in the event that there is a claim against the partnership for which you remain liable. Virginia law provides that partners are liable for obligations incurred during the period in which the individual was a partner.
Photo Credits
Comstock Images/Comstock/Getty Images